Membership
Indooroopilly Golf Club offers an extensive choice of membership categories to cater for all golfers, whether starting out or a seasoned player of many years.
Our categories of membership are based on playing rights and course access with generous discounts for juniors, members aged 25 to 39 years, full time university students and the family of existing members. We also offer flexible payment plans for the payment of our entrance fee.
In short, whatever your age, if you enjoy golf, or are seeking to take up the game and looking to make new friends on and off the course, Indooroopilly Golf Club is for you.
Here are just a few benefits of joining the club:
The opportunity to play one of Brisbane's most highly regarded golf courses as often as you like
Entry into weekly club competitions and Honour Board competitions
The chance to represent the club against others in team pennant competition
Enjoy reciprocal golf at some excellent courses across Australia and around the world
Member prices for golf shop purchases, coaching, food and beverage
Discounted guest green fees
Member discount on room hire for functions and events held at the club
Full use of our modern clubhouse facilities and locker rooms
---
Applying for Membership
Please follow this link to download our Membership Brochure outlining categories and fees for the subscription year 1 July 2019 – 30 June 2020.
Speak to us today about joining our community of almost 2000 members by contacting our Membership Coordinator, Rebecca Burchill on r.burchill@igcgolf.com.au or call (07) 3721 2113.
If you are interested in applying for membership, please complete and submit our Membership Application Form.
---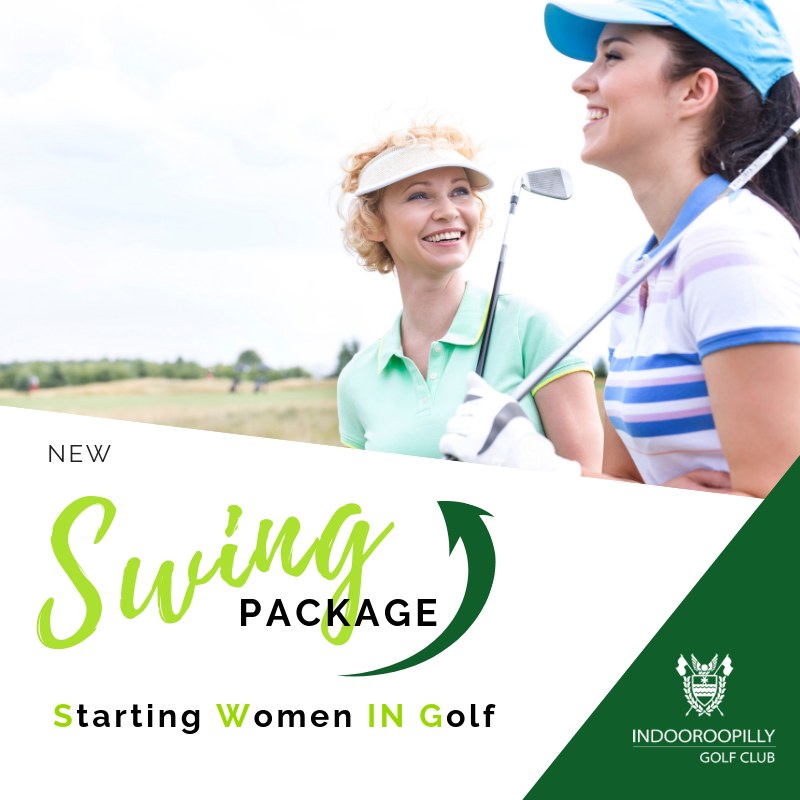 Introducing our brand new 'SWING' Package | Starting Women IN Golf
We invite you to join the Club as a Restricted Member and receive the following all-inclusive package:
Inclusions (valued at over $1,500)
– Women's Bloom Golf Club Set including Bag
– 10 group lessons
– $200 IGC voucher (Golf Shop or Poinciana Restaurant)
Read more about the SWING Package here.
LIMITED OFFER – Enquire now
Contact Rebecca Burchill, Membership Coordinator for more information at r.burchill@igcgolf.com.au or complete the membership enquiry form below.
---
SWING Lessons
Our SWING Lessons are available for SWING package participants, members and non-members.
Our 'Starting Women IN Golf' lessons are designed specifically for beginner golfers and no experience or equipment is necessary.
Our coaching professional will guide you through the basics of the game over 10 weeks of fun and interactive 1 hour lessons.
Each group is limited to eight participants. The 10 week lesson program is available at $350 per person for non-members and $300 for IGC members.
View our 2019 lesson dates here
Contact Rebecca Burchill, Membership Coordinator for more information at r.burchill@igcgolf.com.au.
---
'Lifestyle Membership' Now Available
The Club is excited to announce the launch of a new membership category, Lifestyle Membership. This category is ideal for social golfers and those who are new to the game.
The category is available to all new applicants as well as being open for transfers by current members.
Follow the link below to view details of this category including a FAQ section. For further information please contact Rebecca Burchill, Membership Coordinator at r.burchill@igcgolf.com.au or complete the membership enquiry form below.

---